Last Days in Vietnam Preview
Preview | 30s
Embed Code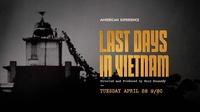 American Experience
Last Days in Vietnam Preview
Nominated for an Academy Award® for Documentary Feature. From filmmaker Rory Kennedy, "Last Days in Vietnam" recounts the chaotic final days of the Vietnam War in April of 1975 as the North Vietnamese Army closed in on Saigon.
Aired: 04/28/15
Rating: NR
Embed Code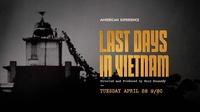 American Experience
Last Days in Vietnam Preview
Report a Problem
Your report has been successfully submitted. Thank you for helping us improve PBS Video.